CU Grow Kicks off Third Year of Developing Small Businesses
Image Carousel with 3 slides
A carousel is a rotating set of images. Use the previous and next buttons to change the displayed slide
Slide 1: CU Grow leaders Scharlene de la Cruz, Program Administrator, left, and Tanya Pope, AVP for University Supplier Diversity and Program Integration, welcome the 2019 cohort of small business owners and their coaches to the program's third year.

Slide 2: José Rosa, Director of Operations for Residential and Commercial Services, left, coaches Simone Peele, Principal at A New World Contracting Co. Individualized coaching helps each participant focus on growth areas that will expand their company's capability that can propel them toward being awarded contracts and earning more revenue.

Slide 3: CU Grow participants and coaches listen attentively as they hear next steps from the Facilities & Operations Construction Business Initiatives team.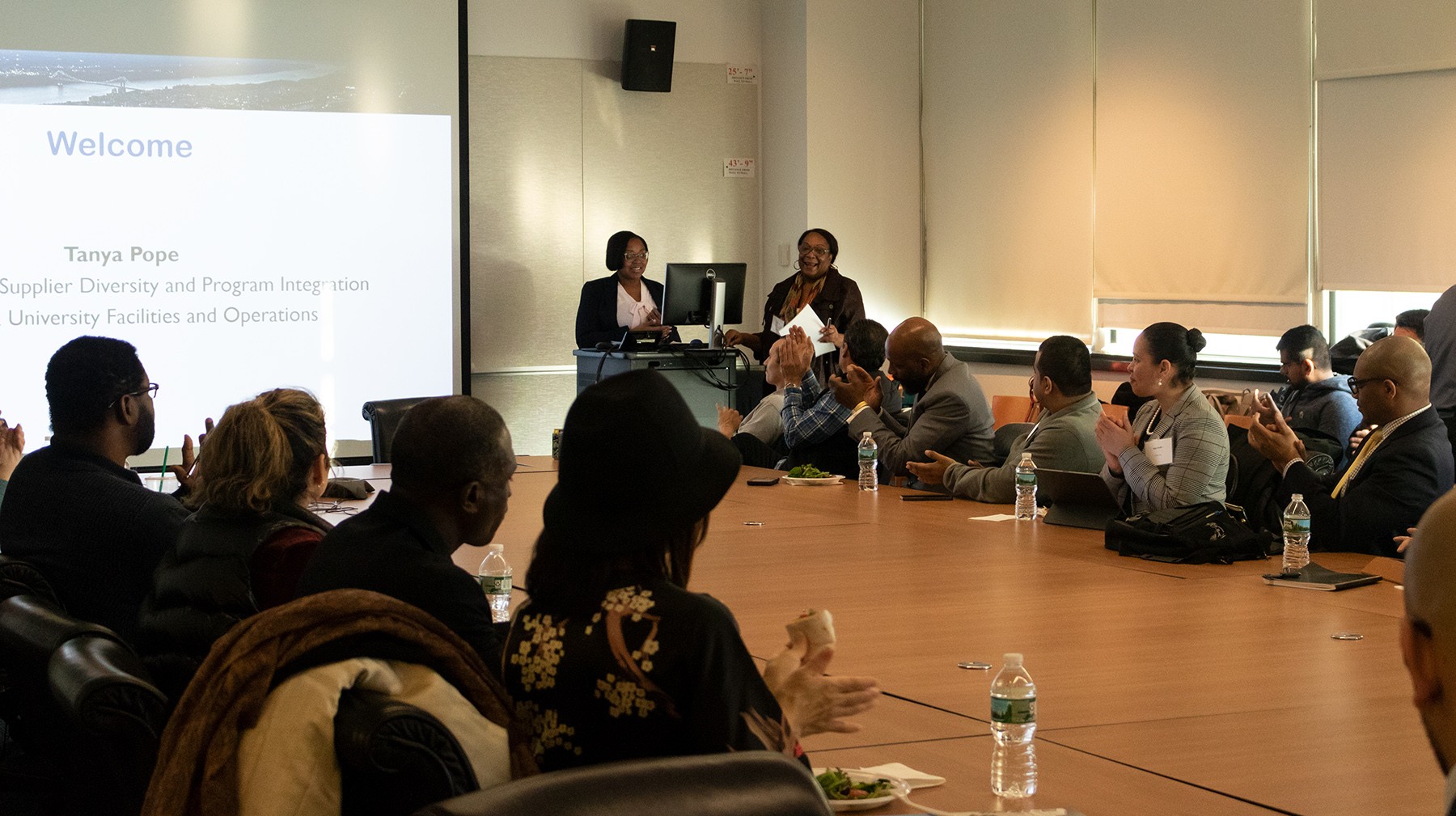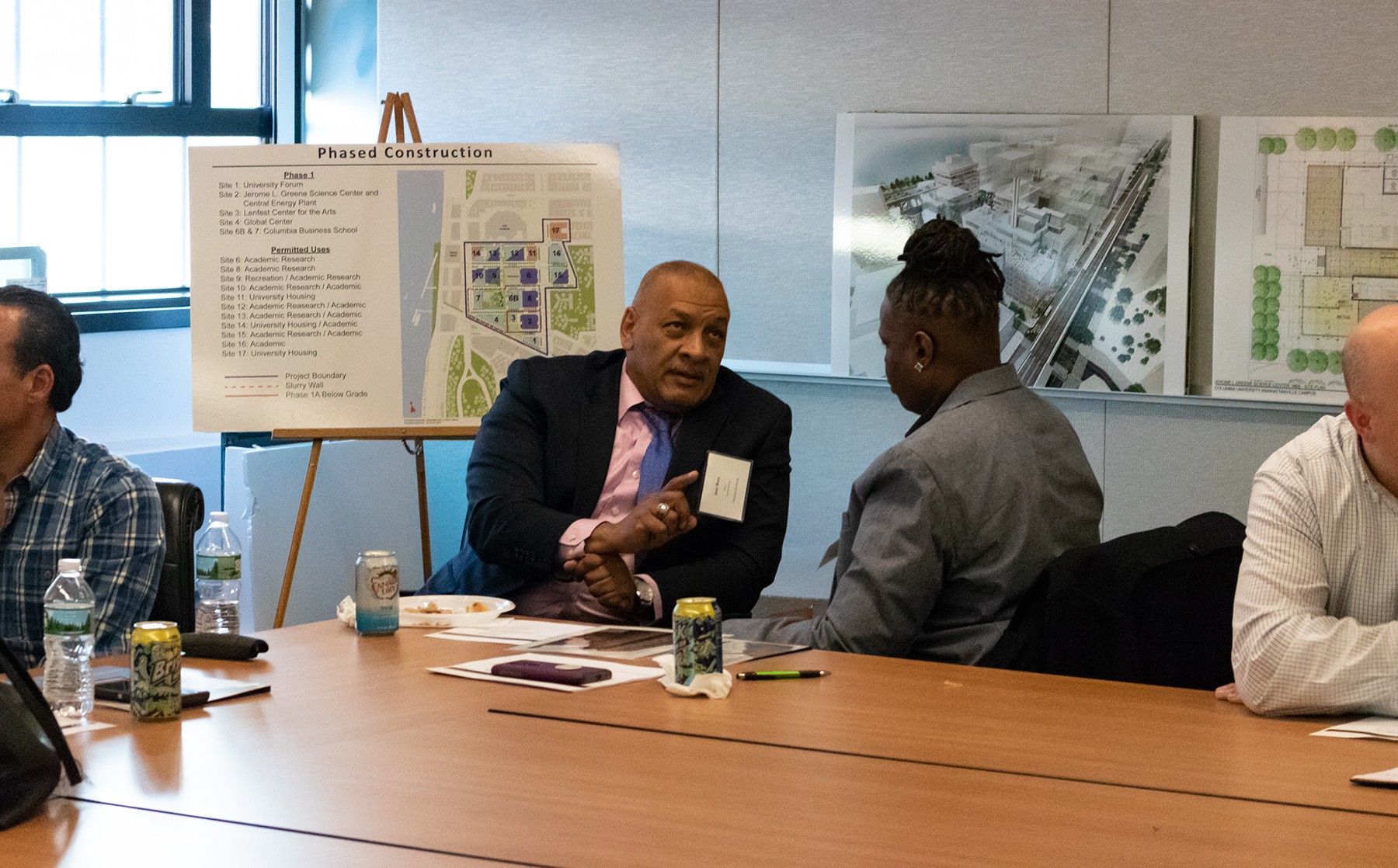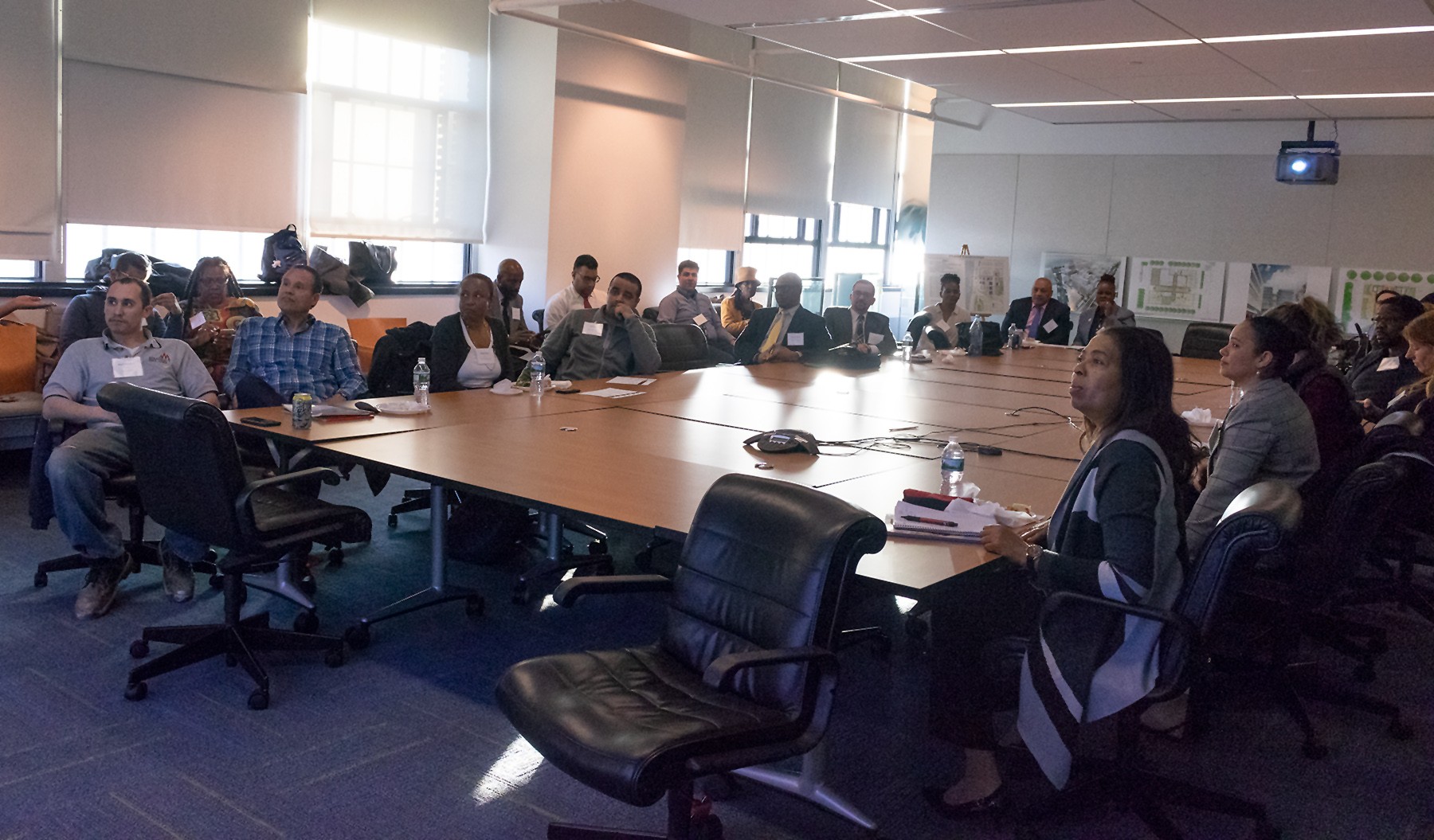 Previous
Next
The CU Grow Leadership Development Program for Vendors kicked off its third year on April 3, when executives of 17 small businesses met their coaches for a nine-month engagement in the program. The goal of the Facilities and Operations initiative is to provide Minority-, Women- and Locally-owned businesses with new resources and strategies, to empower them to grow their business with Columbia University and other large clients.
During the program, the business owners receive individualized coaching in areas where their firms need improvement, support in their executive decision-making and strategic thinking, and assistance with building a three-year growth plan to guide their business. Participants will have several opportunities to connect with Columbia University Project Managers who are potential buyers of their services.  Columbia University partner firms, including general contractors and construction management firms, may also present opportunities to the CU Grow participants. Successful vendors will graduate in December 2019.
The coaches comprise leaders both from Columbia and from local business development organizations, with expertise in accounting, small business development, construction leadership, and government. 
Since Facilities and Operations launched CU Grow, the 29 participants from the first two cohorts have earned a combined $29.6 million with Columbia University. 

Vendors and coaches for 2019 are:
Vendor

Johnny Acosta, Pier Services Inc.

Coach

Lisa Lewis, NYC Building Service
Vendor

K.A. Stacie Alexiou, WATT + FLUX
An LED Inspire Company

Coach

Olivia Freeland, Columbia University
Vendor

Shazam Diaz, New Tech Contracting Corp.

Coach

Ada Uribe, Erestar, Inc.
Vendor

Gerri Domenikos, Airlogix

Coach

Keith George, Columbia University
Vendor

Adrienne J. Faulkner, Faulkner Fabricator, LLC

Coach

John Rooney, Gilbane Building Company
Vendor

Karen Frome, Rise Projects LLC

Coach

Coury Revan, Columbia University
Vendor

Christian Guerrero, Sprout LLC

Coach

Michael Divitto III, Columbia University
Vendor

Manuel Mayancela & Vincent Wade, J&D Carrying and Construction Corp.

Coach

Danny Veasy, Covenant Business Solutions
Vendor

Muhammad Jved, New JD General Construction Inc.

Coach

Patricia Warner, Covenant7
Vendor

Raymond Luna Sr & Raymond Luna Jr., Strategic Fire Corp.

Coach

Tuesday Brooks, Ajoy Management Enterprise
Vendor

Justin Moore, S&M Mechanical Corp.

Coach

Samuel Pierre, SMP Global Consultants
Vendor

Simone Peele, A New World Contracting Co.

Coach

José Rosa, Columbia University
Vendor

Diane Moore, Cleanworks Solutions

Coach

José Morel, Columbia University
Vendor

Joan Sanderman-Brown, Equest Builders Corp.

Coach

Melinda Ragin, HR Controls Solutions
Vendor

Theodore A. Schultz, IAG Electric, Inc.

Coach

Edwin Torres, Columbia University
Vendor

Vik Singh, Hotline Mechanical Inc.

Coach

Michele Wood, Michele Wood Consulting